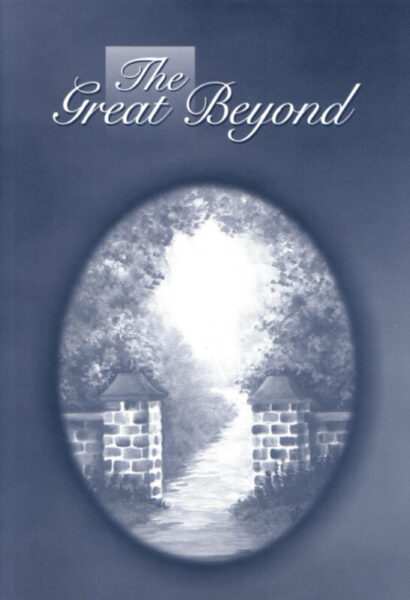 This shaped note song book was published in the fall of 2006 by Jennette Wiebe. This songbook is compiled of old southern gospel songs which are hard to find and possibly not available elsewhere.
The perfect book for church choirs, acappella singing, quartets, trios or any age group. (The songs are all in four part harmony, except one or two which are solos.)
There are 167 songs in this book.
In 2006, I compiled and published a southern gospel songbook named, "The Great Beyond" after one of the songs in the songbook.
It was a dream of mine from when I was young to compile a songbook with some of my favorite songs. I never thought it would actually happen.
The songs in this book hold special meaning for me. It feels like this book gives others a glimpse into my heart. I read each song through word by word. My brother and Mom sang every song with me to make sure that there were no mistakes. The songwriters and or copyright holders had to be contacted for permission to publish each individual song. This book was definitely a labour of love, hard work, tears and prayers.
I hope that each one who purchases this book is touched and comforted by the beautiful songs.
Order "The Great Beyond" Online
Purchase through Netties Expressions by clicking HERE.
Purchase through Prairie View Press by clicking HERE.
Purchase through Gospel Publishers by clicking HERE.
A VERY SPECIAL CHRISTMAS STORY
Have you heard the Christmas story? It's about that special night when baby Jesus was born.
Written by Jennette Wiebe and illustrated by Ana Wiebe.
This lovely children's book depicts the Biblical version of the Christmas story in a simple way that is easy for all ages to understand. You're never too old to hear or read the Christmas story. The story of how baby Jesus was born, is a story that can be read throughout the year and not just at Christmas. It's a story that's precious the whole year through.
This is a 6″ x 9″ perfect bound softcover and is perfect for the little people in your life.
Easy to read words and wonderful coloured illustrations on each page make this book a treasure.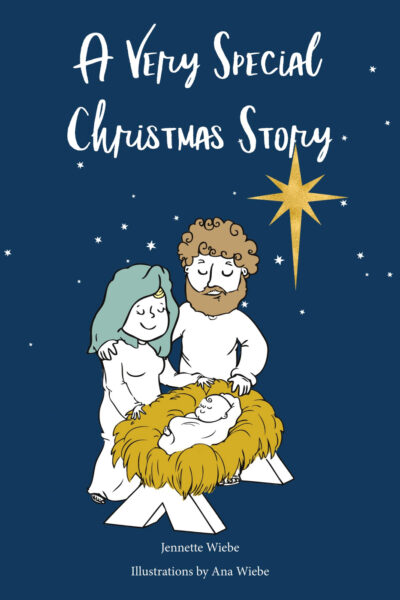 In 2018 I wrote and published my first children's book, A Very Special Christmas Story. I've been building a limited number of rustic wooden nativity sets each year. Every year when I was building them, I would think how nice it would be to have a book telling the Christmas story which could be sold together with the nativity sets. I always had enough on the go without doing anything about it myself.
Finally in 2018, I decided to self-publish my first children's book. I wrote the story in more of a format of myself telling the story to my nieces and nephews. I sent the story to my sister-in-law and had her draw matching illustrations. She did a lovely job of it. In my opinion, the illustrations are what completes the book. I coloured the illustrations using Adobe Photoshop.
I used a cheaper on demand printing company for the first printing. It was quite much of a trial run to see if or how the book would go over. I was so overwhelmed with the positive response. It was truly humbling and I'm forever grateful to each one who bought the book. I sold out of my book locally which didn't really give me the chance to promote it much elsewhere.
In 2019, I decided it was time to figure where to go with this book. I did some checking with different printing companies and settled on Friesens Corporation out of Altona, MB. How neat is it that I live in Manitoba and there just happens to be a really wonderful book printing company 4.75 hours from me?!! So, this book is written, published and printed in Manitoba!
I've made some significant changes to the book for this printing. The illustrations have been completely recoloured. I've added a few more pages making the book easier to look at and read. The story is still more or less the same. I'm so thrilled with how it's turning out. I'll have a real book in my hands this time.
Books are available to purchase through my online shop or retail location.
Order "A Very Special Christmas Story" Online
Purchase through Netties Expressions by clicking HERE.
Purchase through Gospel Publishers in Greenland, MB.
A glimpse into the journey of getting my book printed through Friesens Corporation from Altona, MB.
Click on the photos below to view the full photo.
Are you interested in retailing my books?
Netties Expressions® books are available to be sold in retail locations. If you're interested in selling my books through your retail location, please send an email to: [email protected]
I'll be in touch with my wholesale rates as well as the current retail rates.